Wondering how to start a sneaker brand? Our complete guide will make it easy for you to understand how sneakers are manufactured from start to finish.
Why Start a Sneaker Line?

The thought of having your own sneaker line — designing & manufacturing it from start to finish has likely crossed most people's minds who obsess over sneakers, but often get discouraged when hearing how difficult it is to actually launch your own brand.
"Sneakerheads think this is easy, but I was in the warehouses in Italy and they said, 'If this was so easy, then everyone would do it,'" says 31-year-old John Geiger, who launched his own sneaker brand.
With this complete Guide to Starting your Sneaker brand, we plan to de-code the entire process. Italian Shoe Factory has been helping Sneaker designers to manufacture & launch their private label brands since 1995. Over the years we have seen startups go from concept prototype all the way to showcasing their products in top notch boutiques around the world. Through learnings from those experiences, we share this Guide to help make it easier for you to go from concept to launch within weeks.
There's been a rise in smaller footwear brands recently that straddle the line between sportswear and high fashion, including No One, Sonra, and John Geiger's eponymous label. Through this Guide, you will get answers to questions like: How to start a sneaker brand? What's it like launching and running your own sneaker brand? What are some of the challenges? How much does it cost? How to market your sneaker line? Find out how smaller footwear brands are finally cracking the code and how you can too.
Conduct Market Research
Before starting out, it is important to do some market research, this will help you identify your potential customers and target market. It is important to understand fashion trends and keeping up-to date with the seasonal trends. Also you need to note that your findings would also help you determine whether you want to have a shoe brand for only men, women, or a unisex brand. Having a basic understanding of The Business of Fashion will give you an upper hand when designing your footwear collection. Some popular blogs to keep upto date with trends are BOF, Footwear News, Complex, Sneaker Freaker among other footwear magazines.
Find Your Niche
When thinking about how to start a sneaker brand, it's important to finding the gap in the market and anticipating demand while still maintaining the design elements and vision of your shoe design.
To identify your niche, here are some questions to ask:
What pain point am I solving?
How am I different?
What is my target audience?
Who else is selling a similar product to me?
What is their marketing strategy? How can I learn from that and differentiate my marketing strategy?
It is important to perform an analysis of popular shoe lines and to find gaps where you can differentiate your marketing strategy and approach. Below is an example of a quick search on Google trends, a tool that helps you see the growing trend for the google search keyword for 'Leather Sneakers'.
How to identify Your Competitors
While we all aspire to someday gain tremendous success with the likes of Nike, Adidas or Puma, it is important to dig deeper and knowing who your true competitors are once you have identified your Niche. This will help you identify that there is a demand for your niche and you can then differentiate yourself through your design elements, the quality of the product, branding and marketing and ethical values.
For example, If you are targeting to build a high quality luxury sneaker brand that is yet affordable and doesn't break the bank then below is a list of new age brands that may match that criteria:
List of New Age Sneaker Brands
Filling Pieces

Lanvin

Raf Simons

Golden Goose Deluxe Brand (GGDB)

Maison Margiela

Common Projects

Buttero

ETQ sneaks

Spalwart sneakers

Y-3 sneakers (Yohji Yamamoto)
Sneaker Design & Branding for your Shoes
Create a Moodboard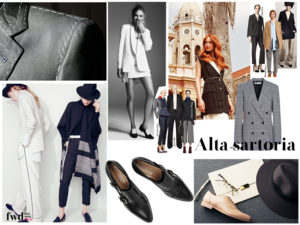 Creating a design requires creativity, brainstorming, and organization. Whether you are new to shoe design, or already familiar with the the creation process, design requires time, patience, and inspiration. Most Importantly, moodboards can help.
Moodboards allow artists, designers, and stylists to visualize their product, and then organize their thoughts and ideas into a concrete concept on the board, which they can then refer back to when creating original designs. This can help with organizing ideas alongside trends and market branding to assist in the creation of a saleable product that customers want to buy.
Building a moodboard can be as simple as gluing photos to a pasteboard but it is crucial to consider the elements, expression, emotion, and value of the components included. In this guide, you will learn to carefully consider style, content, and goals, so that you can create a moodboard that adds value to your project. This should help you with organizing creative thoughts, finding inspiration for new projects to make them more relevant and interesting to consumers, and communicating ideas or designs with others to receive feedback and input.
Create Sketches & Sneaker Tech Pack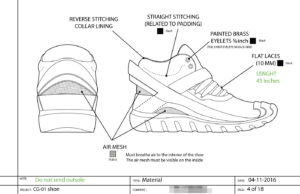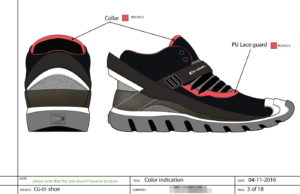 Once you have created a mood board and have your perfect shoe design in mind, it's time to start sketching. It is completely okay if you are not a professional sketch artist, basic image references of existing designs along with sketches with modifications are acceptable when contacting us. You can also hire a professional Shoe Designer who can help you create the sneaker designs as per your guidelines. After the designs are ready, it's time to create a specification sheet or Tech Pack to share with the manufacturer. Italian Shoe Factory offers a handy Tech Pack Guide with an excel template. Most manufacturers ask for a Tech Pack in order to give you an accurate production quote. However, basic sketches and reference images are also fine to get the conversation started with us.
Create Your Brand Identity
Coming up with a catchy brand name for your shoe line will attract interest. It can be your own name or you can come up with something that will resonate with your target niche. Once you come up with the brand name, the first step is to check if the domain name and social handles are available. While, registering your business and getting a trademark is important, it is not necessary in the early prototyping and sampling stages.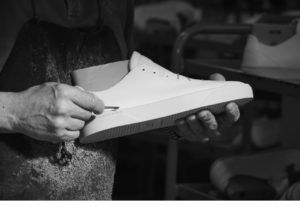 When starting a sneaker brand, it is important to find an experienced manufacturer that will guide you from the initial concept phase all the way to production. With Shoe Manufacturers & new brand owners, it's often a chicken & egg problem. New brands want to test the market with a small quantity order, while Shoe Manufacturers require large quantities and MOQ's to even talk to you.
Keep in mind that shoe factories need volume to make money. Small orders just can't cover the time and expense of development. For example, the development process for a 500 pair order is the same as for a 25,000 pair order. Order minimums are based on the material minimums. Minimum order quantity (MOQ) for a material like suede leather may be 1000 sq feet. This is enough leather to make about 500 pairs.
The good news is, Italian Shoe Factory does offer a Startup Package which is essentially an end-to-end solution to guide you from the initial sneaker prototyping stage to helping you test the market with small batch production until you are ready to grow your brand with confidence.
This stage is very critical to get your final production right. Samples produced can be used to visualize your product design before going into production. It can also be used for online marketing, to show buyers at trade shows and runways, or direct to consumers for pre-order.
The Sneaker prototyping & Pre-production process includes:
Technical consultation

2D Pattern making & size grading

Shoe last development

Sneaker Sole Mould Procurement or development

Material sourcing

Creation of custom moulds as per project requirements

3D buckle and accessory creation

Sample packaging

Trial shoe prototype

Final Sneaker sample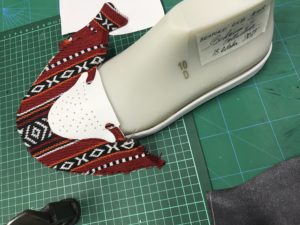 The above list is just a summarized version of the several steps it takes to successfully develop a new shoe design in preparation for mass production.
How much does the Shoe Development and Pre-production phase cost?
The answer depends on the style of shoe you want to make. Depending on the manufacturer and the country you plan to manufacture your shoes in, the cost for prototyping and sample making can range from 1,000 to 3,000 US dollar per style. The price may vary depending on complexity of design, materials chosen, hardware and embellishments (if any), or if particular shoemaking techniques are necessary.
Shoe Manufacturing Process FOR SNEAKER Production
The Production process is more than just the assembly of shoes. It is often a misconception that a single manufacturer takes care of all the steps involved in the sneakear manufacturing process. For example, the outsoles are produced in a sole factory, the materials come from a leather manufacturer and the production ready lasts are made by the last factory. Therefore, you can think of a Shoe Manufacturer as the conductor of an orchestra whose job is to bring several moving parts in the shoe manufacturing process together in order to assemble and craft a high quality product.
The Shoe Last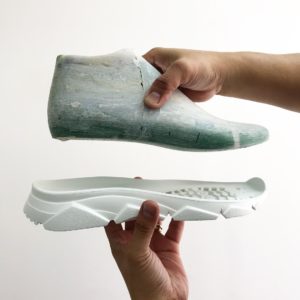 The Shoe Last is the starting point of every shoe design. The last is a foot-shaped form made of moulded plastic, carved wood, or cast aluminium. Used in both the development and production of shoes, the last sets the sizes, silhouette, and outline of the shoe. The last is crtical to the shape of a shoe.
The shape of the last determines the fit, performance, ergonomics and styling of the shoe. It is also what makes a shoe suitable for playing basketball, climbing mountains, or marathon running.
When discussing the attributes of a last, you will need to know the common terms. The majority of measurements are volume rather than the traditional length and width associated with shoe fit.
Sneaker Outsole Procurement & Manufacturing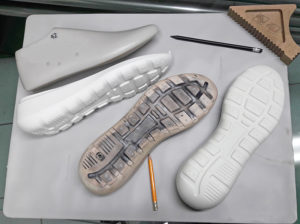 In addition to the Upper design, you also have the option to customize the outsole design (sneaker sole). In order to customize the outsole it is important to clearly specify and sharing the Outsole Blueprint with your manufacturer. The outsole Mould is generally produced with a Sole Factory that specializes in the development of outsoles with state of the art technology and machinery essential to receive a high quality product.
Cost of Sneaker Outsole Manufacturing
A fancy high tech sneaker sole with molded parts can cost anywhere from $2000-4000 USD per each size of outsole, midsole, welding and emboss tooling. Then multiply that number by 12 sizes. This is where you need to ask yourself how critical a custom outsole is to your overall shoe design and branding, while keeping your budget in mind.
If you are on a shoestring budget, it is recommended to ask your manufacturer to procure a pre-moulded sole similar to your concept design. With the growing popularity in the Sneaker market, millions of pre-existing outsole are available and sole factories often design their own soles every season that are open for use by designers. This may be the best way to get started without breaking the bank, and focusing the majority of your customizations on the upper design.
Small batch Production
When selecting the right manufacturer, it's important to find out the Minimum Quantity requirements before starting the prototyping stage. Working with a startup friendly manufacturer will help you test the market with a smaller quantity investment so you do not invest or lose all your money in case the market doesn't accept the product well.
Start–up capital needed for your sneaker production
Starting a sneaker line production business can be cost effective especially if you choose to start on a small scale by producing in quantities of 100-500 pairs for your first order so search for a shoe manufacturer that will accept such quantities to begin with. The cost per pair will depend on a lot of factors such as the design & construction of the sneakers you plan to make, the quality of materials, components and sole and the country of origin for the raw materials. Payment terms for a production order are generally a minimum of 50% when you place your orders and 50% when the orders ship.
Shoe Materials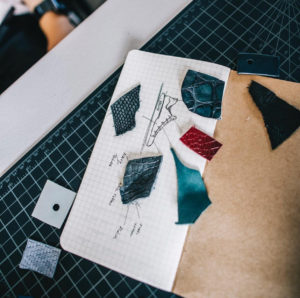 The footwear materials you select for your shoe design are what make your shoemaking ideas come to life! You will find the shoe pattern is not as much the critical or special feature, the footwear materials are. Understanding how to specify footwear materials and mixing them together is important when starting a shoe line. If you want to learn how to become a shoe designer, you must know how to spec footwear materials. You have an infinite menu of material choices and colors to create your footwear masterpiece.  Rich leathers, silky mesh, or high-tech synthetics, take your pick.
How to Select Footwear Materials
The shoe designer must take great care to pick the right materials that can stand up to the demands of shoemaking. The demands for footwear performance and manufacturing must be met. A beautiful material that rips during the lasting operation or fades in sunlight can't be used!  
The five materials most commonly used in sneaker production are leather, textiles, synthetics, rubber and foam.
The beauty of Leather is that it is flexible yet durable, as sturdy as it is supple. It's elastic, so it can be stretched yet it resists tearing and abrasion. It's a breathable material, and it insulates heat, helping to regulate temperature. This all makes leather shoes conform to the feet of the wearer like no other shoe material can. It's no surprise, then, that leather is one of the most common materials that shoemakers use, particularly in making men's dress shoes.
At Italian Shoe Factory, All our materials are sourced from the best ethical tanneries in Italy and around the world. We offer all kinds of Full Grain or Top Grain Leather, Embossed leather, Split Suede, Microfiber leather, Vegan Leather among others. Exotic Skins such as crocodile, python, Elk leather are also available upon request. Our in-house collection is updated every year as per seasonal trends and we also carry swatch books from the finest tanneries in the world so anything under the sun can be procured. Learn more about Leather Sustainability.
To learn more about How to select the best shoe materials, checkout our blog post that dives deeper into the details and science behind footwear materials.