Types of Shoes for Men
The origins of all men's shoes date back to the 19th century. The role of top quality leather in the production of different types of men's shoes is of undoubted importance. In fact, shoe construction and manufacturing processes haven't changed much over the decades. Indeed, the production of all types of shoes still relies on traditional principles and methods such as Goodyear welting, used back in the day. It is the contemporary designs and shapes that give classic men's shoes a modern appeal. 
Therefore, when choosing a pair of classic men's shoes, it is important to take into consideration the quality of materials, fit profile and comfort. However, with so many types of shoes for men out there, it might get confusing to differentiate between them. Italian Shoe Factory breaks it down for you. Here's what types of leather shoes are available for men.
Oxford Shoes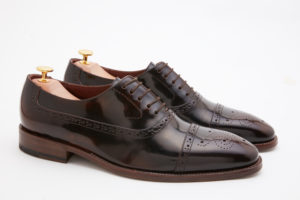 Originating from Ireland and Scotland, Oxford shoes are synonymous with elegance and rank the highest among formal footwear. Commonly made of leather, their most distinct feature is a closed lacing system. Classic Oxford style typically features Blake-stitched or Goodyear welted shoes. Throughout more than a century of their existence, Oxfords have evolved to have many variations. Some of them are plain/whole-cut Oxfords, cap toe Oxfords, wingtip/brogue Oxfords, kiltie Oxfords, and saddle Oxfords.
Derby Shoes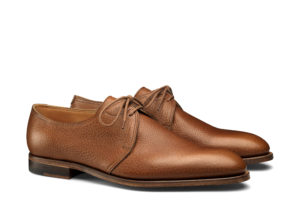 Despite that they are visually very similar to Oxfords, derby shoes have an open lacing system that has two quarters sewn on top of the vamp. Moreover, the open lace flaps are not conjoined at the bottom, creating a slight gap in between the flaps. Interestingly, derby shoes also trace their origins to England. They can be found as plain derby, cap toe derby, wingtip/brogue derby, White Buck, blucher and Budapester.
Slip-on Shoes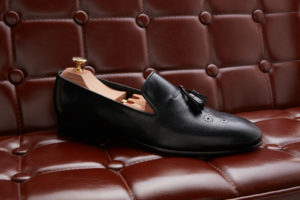 Slip-on shoes refer to footwear that can be put on easily and don't involve lacing or buckling. They come in form of loafers, moccasins and boat shoes. Boat shoes are a sailing-inspired and often very comfortable type of shoes for men. Loafers are a slightly more formal version of the boat shoe. Moccasins are, above all, the most eccentric among slip-on shoes, being adorned with stand-out details such as tassels, gluttony and beads.
Monk Strap

Monk strap is a type of a moderately dressy shoe. The shoe typically has one or two broad straps that close over the instep and fasten externally with a buckle. Monk shoes come in various forms depending on the type, size and positioning of the buckle, type of leather used and the shape of the shoe. These characteristics eventually determine how formal the shoes are.
Boots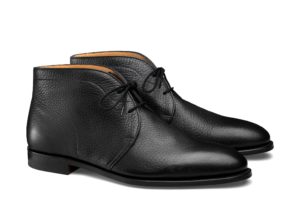 Leather boots are undoubtedly the most stylish cold-weather footwear. Not limited to winter and snow, boots can be dressy or casual, depending on the type. Chelsea boots are the sleekest among boots and can be made of leather or suede. Other types of boots include chukka boots, wingtip boots, cap toe boots, desert boots, Jodhpur boots, motorcycle boots, cowboy boots, riding boots and work wear boots.