WHAT IS A TECH PACK?
If you are a fashion startup or a new designer looking to build your own shoes or leather goods collection, then a Tech Pack is the best way to convey your ideas to a manufacturer. Think of a Tech Pack (short for Technical Packet and also known as Specification Sheets) as a blueprint or a thorough illustration of your shoe designs and specifications. A Tech Pack generally explains your overall design aspects in a structured format to help a manufacturer turn your designs into a finished product.
Download the Italian Shoe Factory Tech Pack guide & template, which includes a PDF guide along with adobe illustrator templates for footwear and handbags that you can follow easily.
WHY IS A TECH PACK IMPORTANT?
A sneaker tech pack for example may include the shape, structure, materials to be used, grading, colorway, sizes, labels etc. A clear Tech Pack also helps in getting a quote for your prototype sample and production orders as per quantity requirement. Some of the items that a Tech Pack may include:
Details of materials to be used for each component of the shoe or bag
Color specifications and pantone number for each component
Blueprint for the sole design if necessary
Image references of hardware or any jewelry accessories
Placement and style of brand labels within the shoes or leather goods.
Box Packaging and branding details
SHOE LAST AND FORM OF THE SHOE
It is very important to share the shape of the shoe design by sharing image references from existing designs. This will help the manufacturer create the Shoe Last, or the solid form around which a shoe will be molded. By sending us a physical shoe you already have from another brand or sending reference pictures, it can help us understand the shape, volume, overall shoe last design and most importantly it will help us achieve the perfect fit of the shoe.
TECHNICAL DRAWING EXAMPLES
Worried about your sketching skills? Worry not, our in-house design team will help refine your sketches into technical drawings which will then be translated into 2D patterns which will help crate the mock-up shoe. Here are 3 examples of technical drawings to give you a basic understanding:
Fig 1: Shoe Technical Drawings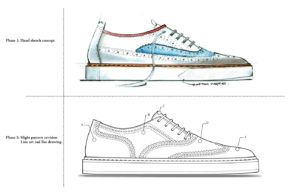 Fig 2: Sneaker Sole Technical Drawings
Fig 3: Bag Technical Drawings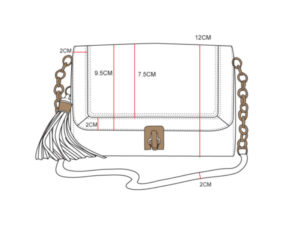 DO I ABSOLUTELY NEED A TECH PACK TO GET STARTED?
While a Tech Pack is not necessary to get started with the Italian Shoe Factory, it is highly recommended to download the Tech Pack guide & template to share a summary of your design vision. During the product development phase, the Italian Shoe Factory design team will then fill in the detailed specifications required for your design during the technical consultation stage.